Navigation
Sections
Husker Articles
Featured Sites
Need Husker Tickets?
Click any of our Husker Tickets banners on the website and order your Huskers Tickets! Great Prices for the Greatest Fans in the World!
GO BIG RED!

The Nebraska football team secured its most important recruiting victory of the season Wednesday, scoring a pledge from strong-armed QB Patrick Witt. The 6-foot-4, 215-pound senior to be at Wylie (Texas) High School picked the Huskers over scholarship offers from Texas Tech, Baylor and Wisconsin, among others.
And Witt, whose contact with NU began only a week ago, said the Huskers have no reason to worry about another late recruiting defection.
"There's no school that's going to lure me away," Witt said. "It's Nebraska football. I'm so excited. I couldn't have found a better school. Tell them I'm a Husker no matter what."
Witt plans to finish high school in December and participate in spring practice next year, when auditions to succeed Zac Taylor figure to grow intense.
Need tickets to soldout games? Click here and buy great seats to sold out Husker games!
1 Comment | Write Comment
A commitment from Anthony Blue, the latest Texan to join the Nebraska football recruiting class of 2007, illustrates even further the Huskers' effort to mine his home state for talent. 
Credit here goes to Ted Gilmore, the NU receivers coach who spotted Blue during a spring practice at Cedar Hill High School and persuaded the 5-foot-10, 170-pound cornerback to visit Lincoln this month.
Blue, a versatile defensive back and track star, told the Huskers Tuesday night of his decision to sign a letter of intent in February. He is the seventh high school senior and third from Texas to accept an NU scholarship offer.
Tight end Ian Harris of San Antonio and cornerback Shawn Sullivan of Brenham, Texas, also committed this month
Blue picked Nebraska over offers from Baylor, San Diego State, Wisconsin, Purdue, Indiana and UNLV. He was not offered by Texas, Texas A&M and Texas Tech. Nor were Harris and Sullivan.
Buy your Husker Tickets at StubHub!
0 Comments | Write Comment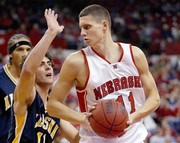 Former Nebraska Basketball player Wes Wilkinson has been selected to play for the Boston Celtic's Summer League team.  This is a great accomplishment for Wes and we wish him the best of luck and cracking the Celtics roster!
Wilkinson had little time to prepare himself for the events of the past week. The Grand Island native said that he had only a few days' notice before heading out for his second workout with an NBA club.
"It came about really quick," Wilkinson said Thursday. "I talked to my agent and he said that Boston wanted me to come and workout. That was four days before I was supposed to be there.">
Once there, Wilkinson's skill and size — he's 6-10, 225 pounds and finished his college career ranked in Nebraska's career top 10 for 3-point percentage and blocked shots — were enough to give the Celtics a reason to want to see more of him in action. It took Wilkinson only seconds to say yes to the Boston Celtics' offer to play on their summer league team.
To Wilkinson, it was a no-brainer. "I went out there and was in the middle of the workout (earlier this week)," Wilkinson said, "and Danny Ainge came over and told me that they had a spot for me on their summer league team if I wanted it."
0 Comments | Write Comment
Nebraska Athletic Director Steve Pederson announced on Thursday that the Huskers have signed a contract for a home-and-home football series with the University of Tennessee. The games will take place in the 2016 and 2017 seasons and mark the third high-profile non-conference series announced by Nebraska in the past six weeks.
The series will begin in Lincoln at Memorial Stadium on Sept. 10, 2016. Nebraska will make the return trip to Knoxville and Tennessee's Neyland Stadium on Sept. 9, 2017.
0 Comments | Write Comment
Nebraska center Aleks Maric began the first tryout camp Monday in an attempt to earn a roster spot for the Boomers, Australia's senior national team that will play in the World Championships in Japan from Aug. 19 to Sept. 3. The tournament will be held in four cities across the country and FIBA has increased the number of participating teams from 16 to 24 this year because of increased level of basketball around the world and the rising number of competitive teams at the highest level.
Maric, who withdrew his name from the NBA early entry draft list last week, will compete this week with 33 other players looking to make the final Australian roster. The tryouts are being held in Canberra and this first round will run June 19-25, while the next round will be July 3-9 in Gosford.
Continue on to the rest of the Article
0 Comments | Write Comment
Great news for Husker Football fans, the season opener against Louisiana Tech on Sep 2nd will be telivised nationally by Fox Sports Net.  Kickoff for the game will be at 2pm central time in Lincoln.  The Louisiana Tech contest is one of three 2006 Nebraska games that has already been tabbed for a national telecast.
Game times and television arrangements for the Huskers' matchups with USC and Colorado have been announced. The Sept. 16 game at USC will kick off at 7 p.m. CDT and be carried nationally as part of ABC's Saturday Night College Football package. Nebraska will also appear on ABC against Colorado on Friday, Nov. 24, with a national telecast set for 2:30 p.m. CST.
Better hurry and buy your Husker Football Tickets!  We all know how fast they sellout!
0 Comments | Write Comment