Navigation
Sections
Husker Articles
Featured Sites
Need Husker Tickets?
Click any of our Husker Tickets banners on the website and order your Huskers Tickets! Great Prices for the Greatest Fans in the World!
GO BIG RED!


Four Nebraska football players were named to the 2006 AT&T All-Big 12 First Team released Tuesday, including senior quarterback Zac Taylor, who was honored by the league's coaches as Offensive Player of the Year. The four NU selections marked the most for the program since it placed five on the 2003 All-Big 12 squad.
Taylor was joined on the first team offense by senior teammate Dane Todd at fullback, while senior defensive end Adam Carriker and suprise selection junior linebacker Bo Ruud also were selected.
Adam Carriker was the Huskers' lone repeat selection, while he was also honored with the Big 12's first annual Defensive Lineman of the Year award. He also became the first Nebraska defensive player named first-team All-Big 12 since linebacker Carlos Polk in 1999 and 2000. NU's four first-team selections trailed only Oklahoma and Texas, which each notched five honorees.
0 Comments | Write Comment

Nebraska junior Sarah Pavan was named the Big 12 player of the year Monday, marking the second straight season the 6-foot-5 Canadian hitter grabbed the conference's top honor.
In the history of the program, six other NU standouts have won multiple conference player of the year awards. Pavan is the first Husker to win the prize in back-to-back seasons since Allison Weston did it in 1994 and 1995.
Pavan, who's averaging 5.22 kills per game, is on pace to break the school's single-season record of 5.09 set by Nancy Metcalf in 1999.
0 Comments | Write Comment

The Nebraska Football team keeps on stockpiling the running backs as they received a committment form Houston running back Marcus Mendoza today.  Marcus did mention he committed now because Nebraska was quickly filling up their scholarships for the season and if he didn't take the opportunity now it might not be there later on.
We have to expect that atleast one of the running back commits will eventually be switching positions.  It could be Mendoza or Helu but we won't know until they arrive on campus see how they do with the team.
Looking for Husker Tickets?  Check out StubHub right now!  100% guranteed!
0 Comments | Write Comment

Nebraska continued its winning ways against the Big 12 North today beating the Colorado Buffaloes 37-14.  In a game full of trick plays, Zac Taylor, Brandon Jackson, and the Husker defense controlled the pace in the first half and then exploded in the second half to pull away for the win.
One player that really stood out today was Barry Turner.  Turner caught a touchdown on a fake field goal in first quarter when backup quarterback Joe Ganz hit him for the td.  Later on in the game, Turned hustled on punt coverage and was able to keep the ball from going into the endzone and the Huskers downed it at the one.  The following play the Huskers got a saftey and it really turned the game around.
Zac Taylor completed 18-of-29 passes for 249 yards and two scores, tying Tommie Frazier's school record for career touchdown passes with 43, while breaking his single-season record for passing yards for the second straight year. Taylor, who has thrown for at least 200 yards in each of the past five games, has thrown for 2,789 yards in 2006, breaking his previous NU record of 2,653 in 2005.
Brandon Jackson finished with 190 all-purpose yards and a pair of scores. He totaled a career-high 34 carries for 142 yards and a score en route to his fourth 100-yard rushing day of the season. Jackson, who became only the second CU opponent to reach the century mark this season, also caught a career-high six passes for 48 yards, becoming the second Husker in school history to record 40 all-purpose attempts in a game.
The blackshirt defense played a pretty good game overall.  There were still missed tackles by the secondary which is something to worry about for the next two games.  Shanle and Jones appear to be afraid to hit anyone.  Shanle loves to leg tackle, and Jones prefers to sit back and let the receiver come to him rather then run at them and make a tackle.  The d-line and linebackers played a pretty good game overall.
Next up is the Big 12 Championship (buy tickets) on Dec 2nd in Kansas City.  Nebraska will either face Texas or Oklahoma.  It all comes down to who wins in the Oklahoma / Oklahoma State game tomorrow.  OU wins, it is Nebraska/OU.  If Oklahoma loses. then the Huskers will face the Longhorns for the second time this season.
If you are still looking for Big 12 Championship tickets, click here now! HURRY, they are going fast!
0 Comments | Write Comment

It's finally that time of year, we stuff our stomachs full of food on Thanksgiving and then recover to watch the Nebraska / Colorado game the next day.  This years game should be exciting to say the least, Colorado talked some smack earlier this week saying they were going to punch Nebraska right in the mouth and beat them.  Now I don't see that happening but the game should be in the 14-21 point range with Nebraska winning and moving on the Big 12 Championship (Buy Tickets).
It will also be Senior Day at Memorial Stadium.  It will be the Seniors last game playing in front of a jacked up sold out Memorial Stadium crowd.  Emotions will be high, there will be electricity through the crowd, and Memorial Stadium is going to be rocking!
On the injury note, don't look for Greg Austin, Cody Glenn, or Matt Slauson to see the playing field.  They will more then likely be held out and try to heal up for the Big 12 Championship.
My prediction.  Nebraska 35 CU 17
Looking for Big 12 Championship Tickets?  Look no farther then StubHub!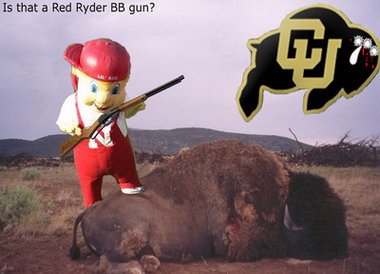 2 Comments | Write Comment

Nebraska Basketball improved to 3-0 with their win over Lubbock Christian last night.  The Husker beat the NAIA school 65-42.
NU received a balanced offensive effort that featured each starter scoring at least seven points. Junior center Aleks Maric led the squad for the second time in three games with a game-high 13 points on 6-of-6 shooting while adding six rebounds in only 25 minutes. Freshman guard Ryan Anderson added his second straight double-digit scoring effort with 10 points and six boards.
Senior point guard Charles Richardson and freshmen guards Sek Henry and Jay-R Strowbridge notched eight points each, with Henry contributing a team- and career-high six assists. Sophomore guard Jamel White scored seven points and totaled five assists in only 25 minutes of action.
Nebraska returns to the court on Monday, Nov. 27, when it plays host to Arkansas-Pine Bluff. The Huskers will look to make Head Coach Doc Sadler the first NU coach to begin his Nebraska tenure 4-0 since Paul Schlisser guided his 1919-20 squad to a 6-0 start.
Looking for Husker Tickets? Click Here!
0 Comments | Write Comment

The Nebraska football team had a conference leading 15 football players on the first-team Academic All-Big 12 team. Overall, 22 Huskers received either first or second team recognition by the Big 12.
Leading the way for Nebraska was senior fullback Dane Todd, who was one of two players honored for having a cumulative 4.0 grade-point average. Todd is a strong candidate to be named an Academic All-American for the second consecutive year later this month.  Todd is one smart man!
Todd is one of five Huskers who were named first-team Academic All-Big 12 for the third time in their careers. Also named to the first team for the third time were senior center Kurt Mann, senior free safety Brandon Rigoni, senior free safety Andrew Shanle and junior tight end J.B. Phillips. Making their second career appearance on the academic squad were junior linebacker Lance Brandenburgh and sophomore wide receiver Todd Peterson.
Players being named first-team Academic All-Big 12 for the first time were senior defensive end Adam Carriker, sophomore offensive guard Andy Christensen, sophomore place-kicker Jordan Congdon, senior linebacker Andy Kadavy, senior offensive tackle Newton Lingenfelter, sophomore safety Matt O'Hanlon, sophomore defensive end Zach Potter and sophomore punter Dan Titchener. Five members of the second team—senior cornerback Isaiah Fluellen, senior tight end Matt Herian, junior tight end Josh Mueller, junior offensive tackle Chris Patrick, and senior quarterback Zac Taylor, also each earned their first career recognition.
Congratulations to all the Huskers that made the list, your hardwork in the classrom is paying off and you will be going far in life with the determination that you are putting in!
0 Comments | Write Comment