Navigation
Sections
Recent Husker Articles
Featured Sites
Need Husker Tickets?
Click any of our Husker Tickets banners on the website and order your Huskers Tickets! Great Prices for the Greatest Fans in the World!
GO BIG RED!


It's finally that time of year, we stuff our stomachs full of food on Thanksgiving and then recover to watch the Nebraska / Colorado game the next day.  This years game should be exciting to say the least, Colorado talked some smack earlier this week saying they were going to punch Nebraska right in the mouth and beat them.  Now I don't see that happening but the game should be in the 14-21 point range with Nebraska winning and moving on the Big 12 Championship (Buy Tickets).
It will also be Senior Day at Memorial Stadium.  It will be the Seniors last game playing in front of a jacked up sold out Memorial Stadium crowd.  Emotions will be high, there will be electricity through the crowd, and Memorial Stadium is going to be rocking!
On the injury note, don't look for Greg Austin, Cody Glenn, or Matt Slauson to see the playing field.  They will more then likely be held out and try to heal up for the Big 12 Championship.
My prediction.  Nebraska 35 CU 17
Looking for Big 12 Championship Tickets?  Look no farther then StubHub!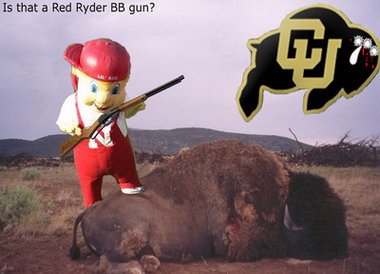 2 Comments | Write Comment
2 Responses to "It's that time of year again, Nebraska vs Colorado"
jacob Says:
April 2nd, 2008 at 3:29 pm

that is fun

John Harvey Says:
November 26th, 2010 at 3:09 pm

learn how use correct grammar you dumbass… "with Nebraska winning and moving on (to) the Big 12 Championship"