Navigation
Sections
Husker Articles
Featured Sites
Need Husker Tickets?
Click any of our Husker Tickets banners on the website and order your Huskers Tickets! Great Prices for the Greatest Fans in the World!
GO BIG RED!


Nebraska won an ugly game Saturday against Creighton 54-52.  This game was a tale of two halves, in the first half NU struggled to make baskets even when they had shots close to the rim.  There were multiple blocks by Creighton in the first half leading to Kenny Lawson getting 4 blocks in the game for Creighton.  The other area in which NU really struggled in the first half was rebounding in the half court; Creighton used their size to get rebounds and end NU possessions.  Surprisingly, the Huskers were not sending extra men to the offensive glass and instead were focusing their attention on getting back on defense.
NU's halftime point total of 18 was very disappointing, bordering on pathetic.  The team looked uninspired as they gave up drives to the hoop that were kicked out for open three pointers by Creighton.  The ability of Creighton to dribble drive and kick to open shooters has to be a worry for Doc.  If other teams can do that against the Huskers it will be a very long season.
The Huskers were able to stay in the game partly because Creighton really slowed the game down and did not attempt to run up and down the court with Nebraska.  It seems that Dana realized that his advantage was in the half court and attempted to have the game decided there.
In the second half the Huskers came with much more intensity on defense and stopped giving up drives to the hoop.  Creighton was still able to score some easy inside buckets on offensive rebounds, but there is not much that NU can do to stop those baskets in this or any other game.  It seems that Doc is conceding those points by playing the 5 guard lineup that he has decided to go with.
The defensive pressure was able to create some easy baskets and Paul Velander came alive from three point range and began bombing in three's.  With the transition baskets and the makes from three NU was able to claw their way back into the game and take a 47-41 lead with 5 minutes to play.  During this run by Nebraska, Creighton was forced to use their timeouts to stay in the game and make adjustments.  They finally found something that worked, a zone that seemed to stifled Nebraska as the Huskers seemed satisfied with rotating the ball around the perimeter and then taking a contested jump shot with time expiring on the shot clock.
Creighton was able to hit some open shots and get some put backs for buckets to draw the game even in the final minutes, but Nebraska held on based on Steve Harley's performance down the stretch.  As the game drew to the waning moments NU had a three point lead, but Dotzler came down and hit a three pointer to tie the game at 52.  But Harley, who led the Huskers with 18 points, had the answer for NU as he passed to Ade Dagunduro for the game winning basket with 2.7 seconds remaining in the game.
What we saw on Saturday is what we are going to get with this team.  Doc is going to go with Harley, Henry, Dagunduro, Anderson, Richardson, Miller, Velander and McCray with token minutes going to Balham.  It looks like this is the plan going forward for NU unless something crazy happens with Jorge Diaz the recruit from Puerto Rico who we are still waiting on the results of his English proficiency test.  With their quickness I don't see defense being the problem with this team.  At one point on Saturday Miller was one on one down in the block and got a steal.  The quick hands from our guards are able to create turnovers down low when teams try to get the ball inside.  Were we will have troubles is scoring on the offensive end.  This will be especially true if we are not hitting the outside shots.  If we go cold from outside we could get beat by some very average to below average teams in conference.
Go Big Red - Corey
0 Comments | Write Comment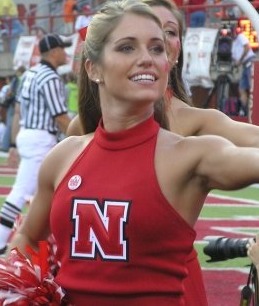 Good morning Husker Nation. We are being called upon once again to show support for Husker cheerleader Katie Rockwell as she competes in the Athlon Sports Sideline Spirit Contest. We all helped Katie gain the most votes in the Big 12 Conference and now it is time to take it to the national level as Katie is a finalist for the award.
Fan voting is limited to 20 times per day per account, which is free on the Athlon website. Fans can also vote up to 10 times per day with a valid Facebook account through the Sideline Spirit Facebook application.
Visitors to the www.athlonsports.com/spirit website get the opportunity to show their school spirit by voting for their favorite spirit contestant.  The winner will be featured in the 2009 Athlon Sports College Football annuals and her squad will receive $1,000, plus a JVC 42-inch television with integrated iPod Dock, a JVC Full HD Hard Disk Camcorder, a JVC Enviro Hard Disk Camcorder, and a JVC Mini System with Built-In iPod Dock.
Husker nation, let's do our job and show our support! Pass this information on to as many people as you know!
0 Comments | Write Comment

Holy cow, that is the first thing that comes to my mind after watching the Huskers beat Colorado 40-31 this afternoon. First off, who knew that Alex Henery could kick a 57 yard field goal especially with the team down one and all that pressure on him. Henery kicked field goals of 57, 37 (two), and 27 yards. Congrats on stepping up and kicking the longest field goal in team history and giving the team the victory!
We can't forget about the big man Ndamukong Suh who intercepted Cody Hawkins pass that Zach Potter tipped for a pick six to put the game out of reach for the Buffaloes. Suh stiff arm Hawkins as he returned the interception back for a touchdown. It was Suh's second pick six of the season.
The game sure didn't start out the way the Huskers wanted to however. They spotted the Buffaloes 14 points right away and then battled back to score the next 17 points of the game to take a 17-14 lead.  Roy  Helu Jr. did awesome as he filled in for Marlon Lucky who did not play on Senior day due to his turf toe injury. Helu Jr. carried the ball 25 times for 166 yards as he averaged 6.6 yards per carry.
Quentin Castille had the only rushing touchdown for the Huskers as he scored from one yard out in the second quarter.
Joe Ganz threw for 229 yards and two touchdowns as he completed 19 of 26 passes. Ganz had a up and down game overall I thought. There were times when he held on to the ball way to long which is something that has given him problems all season long. You can't take sacks especially late in the game like he did. Nate Swift and Mike McNeill caught the touchdown passes from Ganz.
The Huskers defense played pretty good despite giving up two big plays early in the game. The Buffs scored on 68 and 36 yards but after those two plays in the first quarter, the Blackshirts stiffened up and held the Buffaloes to 291 total yards. Almost all of those yards came via that passing game as they passed for 249 yards. The defense picked off three passes and recovered one fumble as they had four takeaways in the game. Great job by the D-line and linebackers!
I'm happy to come away with a victory as it means the Huskers will probably be headed to the Gator Bowl against an ACC opponent, but the team needs to work some things as they have a month's worth of practice coming up. The offense needs to limit mistakes inside the redzone, cut down on the turnovers, and Ganz needs to figure out a way to get rid of the ball rather the taking so many sacks. The defense needs to limit those big plays (mostly in the secondary) and then just keep doing what they have been doing at the defensive line.
What's your opinions on the game? Did you about have a heart attack as well?
3 Comments | Write Comment

The Nebraska Football team picked up two verbal commitments on Tuesday. Dijon Washington and Andrew Rodriguez both accepted scholarship offers from the Huskers and can't wait to join the Big Red family.
Washington rated the #15 safety and four stars by Rivals.com. Washington said that since his official visit to Nebraska on Oct. 3, he had been thinking about making a decision. He has other scholarship offers from schools such as Oregon State, San Diego State, Washington, and Washington State.
Rodriguez is the first commit for the 2010 class for the Huskers. A lot of in-state Husker fans already know about Rodriguez as his high school team just won the Class B State Championship last weekend. Rodriguez is a highly rated offensive linemen who is already 6'6 and 298 pounds. That while only being a junior in high school!
Rodriguez mentioned that he chose the Huskers because he likes the state of Nebraska and it will give his family a chance to watch his games in person. Several schools including LSU, Notre Dame, and Texas were sending mail to Rodriguez but he says that he is ending his recruitiment early and will not be taking official visits to any other schools.
Congrats to Mr. Washington and Mr. Rodriguez!
3 Comments | Write Comment

The Nebraska basketball team beat Saint Louis today by a score of 71 to 54.  NU was lead by junior Sek Henry who scored 19 points on combination of 3 point shooting and drives to the hoop including 2 of 3 from 3 and 5 of 5 from 2; in addition he was 3 of 3 from the free throw line.  Also pacing the Huskers were Seniors Steve Harley with 12 and Ade Dagunduro with 14 respectively.
The game started fairly slowly with Saint Louis playing a style similar to what we saw under Barry Collier.  They worked the shot clock on offense and played tight man to man on defense.  The Huskers were able to take advantage of the tight defensive pressure put on by Saint Louis and create multiple mismatches and drives to the hoop.  The Huskers did not shoot as many 3 point shots as they have been only attempting 14 while making 5.  NU was very good from the free throw line tonight other than Paul Velander missing the front end of a one and one in the first half.  He made up for that missed free throw by drawing two charges in the first half and a third in the second half. For the game NU was 14 of 16 from the charity stripe, by far the best it has been all season.
Rebounding wise NU did OK, but Conklin was definitely giving them problems on the defensive boards he ended the game with six total rebounds, five of them came on the offensive end.  Conklin also gave the Huskers trouble when they were able to work the ball inside to him as he was the high scorer for Saint Louis with 18.  Saint Louis is not a great scoring team and they showed it tonight.  57 is probably an average number of points for them to score, but what I was impressed with is Nebraska's ability to get points off of penetration.  NU broke out of the habit that it has had so far this season of taking the three instead of attempting to work the ball inside.  Tonight the three was not hitting to start the game off and it seemed like Doc really wanted to get some points in the paint.
Thoughts going forward:
Tonight Doc did not play Alonzo Edwards or Bear Jones and Chris Balham only played 8 minutes.  We saw a nine man rotation tonight that may be similar to what Doc goes with once conference season rolls around.  Toney McCray was ice cold today from the field, but continued to play solid defense which was good to see from a young player.  His ability to alter shots is going to help the Huskers when they do not have a true post in the game.  Sek Henry, Ade Dagunduro and Toney McCray all have the ability to block shots with their length.  The way that NU plays a swarming defense once the ball gets in the post these players are able to help and make inside shots much tougher.  NU has yet to face an Alecs Maric type big man this year that will body up against defenders and be able to take on the double team and still score.  Alecs would probably score 40 against this team right now.
So far the Huskers have been able to minimize the damage done by other teams post players by forcing teams into uncomfortable situations.  They use the press to do a couple of things: first it helps the team create turnovers to get transition baskets, but even if there is no turnover caused it forces the other team to use a considerable amount of time to get the ball into their half court offense.  This prevents other teams from being able to just post up their big man and let him bang against our smaller players.  Also Doc has his players double teaming in the post all the time when the ball gets there and even some of the time before it does.  While in one on one coverage down low they have been mainly fronting the post and trying to deny with their hands.  With the pressure they have been applying to opposing guards it has made it difficult for teams to work the ball inside.
The majority of points that Conklin got tonight were on offensive rebounds and put backs.  These are going to be very difficult to stop, but the Husker team is tenacious at rebounding giving everything they have.  The next game against Creighton is going to be very interesting.  They should be able to get the calls at home if they continue to be aggressive and keep driving to the hoop.  I think NU wins in a close hard fought game.
Go Big Red! - Corey
1 Comment | Write Comment

Hey everyone, hope you all are having a great week so far. It's that time of year where everyone is thinking about Thanksgiving, the Nebraska vs Colorado game, and which bowl game the Huskers might be headed to. We will talk about about the big game on Friday as well as the possible bowl destinations for the Huskers a little bit today.
First off, there has all ready been a little bit of talk in the media from Husker players and Buffalo players. Nothing really bad, just why players like Shaun Mohler (CU Player) and Matt Slauson chose the school that they did when it came down to recruiting and picking Colorado or Nebraska. We also heard Larry Asante say that the defense really scaled things during the bye week as far as coverages they will be using this week. He went onto say something to the affect that everything is simple because that is all they have to do to beat the Buffaloes. Hmm a little bulletin board material right there.
As for the game itself, the Huskers are favored by 15 points as of today (Tuesday). With the game being at home, I expect them to win by 10-14 points and for the Seniors to have a really good day. Quarterback Joe Ganz will be getting the start despite missing a couple of practices late last week when he roughed up his shoulder a little bit. Phillip Dillard is also planned to play and be at around 85% for the game.
I also expect the Huskers defense to have a great game against Cody Hawkins and the Buffs. The Buffaloes offense ranks last in the Big 12 in both total offense and scoring. The Buffaloes lost their leading rusher against Texas A&M to a broken leg and they really haven't been able to run that ball like they would like. That causes trouble right there as the Huskers will be flying all over the field and putting pressure on Hawkins. I'd be surprised if the blackshirts don't pick off a couple of rushed passed by Hawkins and also pick up 3-4 sacks in the game.
In the end, I'm think we will see a score like 45-28 in favor of the Huskers. The big red just have to much on both sides of the ball and should have their way with the Buffs. What is everyone else's prediction in the game
0 Comments | Write Comment

Nebraska moved to 3-0 on the season after defeating Arkansas-Pine Bluff 67-53 Saturday afternoon at the Bob Davaney Sports Center.  The Huskers were led by guards Steve Harley and Sek Henry.  Harley finished with a game high 18 points while Henry helped the Husker cause by netting 14 points, 5 rebounds, and 4 assists.  Brandon Richardson and Paul Velander continued their good play this season by chipping in 9 points a piece.  Arkansas-Pine Bluff was led by Lebaron Weathers and Gavin Montgomery who combined for 22 points in the loss.
Breakdown:
Nebraska struggled on defense in the first half allowing Arkansas-Pine Bluff to shoot 52.4% from the field.  There were a lot of easy baskets, especially in transition.  This Nebraska team doesn't have enough offensive firepower yet to allow opposing teams to have those kinds of easy buckets.  Granted, they only scored 24 points in the first half, but against a better team that would have been a lot more.
In the second half, Nebraska was much better defensively.  Yes, Arkansas-Pine Bluff did score more points, but they did a much better job at challenging shots and creating turnovers.  I'm sure Doc Sadler is going to be drilling defense into their heads in the next few practices. Nebraska can not afford to let up on defense.  That's the one thing that Nebraska can control at this point.  The fact that it wasn't there for much of the first half was concerning.
Sek and Harley stepped up in this game.  Sek is going to do some big things this year, he's improved a lot over the summer.  I have no doubt that Sek Henry is the most improved player on the team this year.  We really saw what Sek is capable of in this game.  He's going to have many more games like this over the next two years.  It's equally nice to see Harley get off for 18 points.  We are coming up on a stretch where we need both of these guys to play at a high level.  This is a good sign for the Huskers.
Unlike last year, foul trouble is not going to be a problem for this team.  We are so deep with guys who can play that our fouls will be so spread out that it won't really even be a problem.  Although I gotta tell you, how does Alonzo Edwards get 4 fouls in 10 minutes?  Impressive.
Toney McCray was sick with a virus, which was the reason for his lack playing time and production.  Had he been able to give us 20-25 healthy minutes, Nebraska would have won by a lot more than just 14 points.  I'm really exited about Toney this year, he's going to win some games for us.  However, he's still a freshman, he's going to be inconsistent at times.
Alonzo Edwards showed some potential.  You could really tell he was really nervous, which led to some mistakes.  He's been practicing very well lately.  He just needs to log in more playing time.  He should get that after the next 2 games.
4 Comments | Write Comment