Navigation
Sections
Recent Husker Articles
Featured Sites
Need Husker Tickets?
Click any of our Husker Tickets banners on the website and order your Huskers Tickets! Great Prices for the Greatest Fans in the World!
GO BIG RED!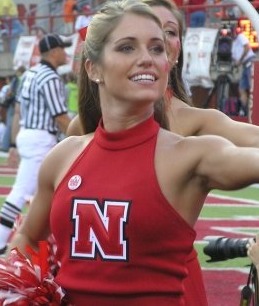 Good morning Husker Nation. We are being called upon once again to show support for Husker cheerleader Katie Rockwell as she competes in the Athlon Sports Sideline Spirit Contest. We all helped Katie gain the most votes in the Big 12 Conference and now it is time to take it to the national level as Katie is a finalist for the award.
Fan voting is limited to 20 times per day per account, which is free on the Athlon website. Fans can also vote up to 10 times per day with a valid Facebook account through the Sideline Spirit Facebook application.
Visitors to the www.athlonsports.com/spirit website get the opportunity to show their school spirit by voting for their favorite spirit contestant.  The winner will be featured in the 2009 Athlon Sports College Football annuals and her squad will receive $1,000, plus a JVC 42-inch television with integrated iPod Dock, a JVC Full HD Hard Disk Camcorder, a JVC Enviro Hard Disk Camcorder, and a JVC Mini System with Built-In iPod Dock.
Husker nation, let's do our job and show our support! Pass this information on to as many people as you know!
0 Comments | Write Comment