Navigation
Sections
Husker Articles
Featured Sites
Need Husker Tickets?
Click any of our Husker Tickets banners on the website and order your Huskers Tickets! Great Prices for the Greatest Fans in the World!
GO BIG RED!

Wow, what a day and night it was in Lincoln this past Saturday for myself and my wife. We got started on the road Friday morning to make the seven hour drive to Lincoln and checked out the Rail Yard area for food and drinks. Came away very impressed with the area!
After the rain stopped Saturday morning we ventured out ended up grabbing a parking spot at 10th and N for $30 bucks. Looks like the prices have went up since I last parked in this lot and they said no tailgating? What the heck, it was an open area and not garage. Good thing we had plans to head over to the Lincoln Journal Star lot where we had some friends that had a spot there.
Tailgated for five or so hours with hundreds  of Husker and Hurricane fans. Everyone was getting a long great and there were zero problems. Plenty of food and drinks to go around just like tailgating should be. (Hint, not like down on the reservation lot where the cops showed up etc). Be smarter people!
On to the game. Wow, Memorial Stadium was rocking from the tunnel walk all through the game. The tunnel walk was one of the best ones I had though and the 94 team coming through the tunnel once again was a great sight. I'm sure those players and coaches really enjoyed doing that one more time.
You could tell what the game plan was for Nebraska. Run Run Run and hope to wear down the Miami line. The Hurricanes were primarily playing a 4-3 defense but had to spread the linebackers out to cover a slot receiver which really opened up the middle of the field for Ameer Abdullah. Not sure why Miami didn't roll the safeties up closer and force Beck to call more passing plays..
With Abdullah running wild, for the tune of 229 yards on 35 carries and two total touchdowns the Nebraska offense put up 41 points vs the Hurricanes 31 points. The offensive line played good and the wide outs did an exceptional job of blocking out on the edge.
It was the defense however that was the turning point in the game. Trevor Roach forced a Duke Johnson fumble which Josh Mitchell scooped up and took back for a 57 yard touch down. From that point forward, the game got very chipping with the Hurricanes picking up five personal foul penalties and trying to start fights all over the field. Thug U at their best…
The blackshirts weren't their best on the field but they played well enough to get the win. The linebackers were the one group that I thought had a rough night minus the Roach forced fumble. Duke Johnson was a matchup nightmare for the linebackers and it is something that the guys really need to work on. Better angles and tackling in the open field. They better get that fixed before Saturday as Illinois will be coming to town and will be trying the same thing on offense.
Overall it was a battle by both teams and Nebraska came out on top. Next years game down in Miami is going to be a scary one. Not only for the team, but also the fans in my opinion. I will not be making that trip I have already decided. I just don't want to be there for the the mess that could happen.
We had seats in section 108 and loved it there. Great fans all around us. No shut up and sit down comments as everyone was into the game just as it should be. By the way, make sure you go up from your seats if you need to use the bathroom or grab some concessions. Much faster than going down the stairs and back down to the ground level.
Nebraska 41 - Miami 31. GBR! @NEBSPORTS
0 Comments | Write Comment
So things sure didn't turn out how Coach Pelini, the players or the fans wanted at the end of the season. An embarrassing loss to Wisconsin in the Big 10 Championship and then a tough battle against Georgia in the Capital One bowl left the Huskers with a 10-4 overall record for the 2012 season. Definitely not where the program needs to be.
It will be interesting to see where the sports betting sites list the Huskers as far as odds go. Are they still a top 3-4 team in the B1G 10? Will the odds be in their favor with the schedule pointing to good opportunities? It will be fun to see where they come out but I would think towards the top but behind Ohio State.
I do like where the offense should be. Plenty of starters are are returning and it will be another year for Tim Beck to grow as an offensive coordinator. Taylor Martinez will be back for his Senior year but will be without Rex Burckhead and the two tight ends Ben Cotton and Tyler Reed.
I am not worried at the running back position. Tight end, it would be nice to see a younger guy show up and take over the spot. The job will be open and a couple of those young guys are going to have to step up. It's really too bad the coaching staff wasn't able to reel in a juco tight end commitment.
Where things do get scary is when you look on the defensive side of the ball. I see open competitions at almost every position. Once again, it will be young guys that will have to be plugged in and thrown into the battle early. It's time to get speed on the field and play the guys that can take good angles and make an open field tackle.
Can the defensive line establish some depth? I sure hope the few juco d-line guys come in in good shape and ready from the get go. We need to see a much improved d-line play and have depth behind them to really control teams in the second half.
So looking back at the 2012 season, there were definitely up and downs. The loss at UCLA hurt, come back wins were nice, but it just wasn't that dominating season that us Husker fans wanted to see. The 14 points loss to Georgia in the bowl game wasn't as bad as the score shows so I really hope the guys come into 2013 thinking they can play with anyone. It's the attitude that they need to win a B1G Championship and win a BCS bowl game.
Let's hope this is a good offseason with good conditioning and the coaching staff remain in recruiting mode. I can't wait until Spring ball and then the start of the 2013 season. GO BIG RED!
0 Comments | Write Comment
Nebraska now knows what their 2015 and 2016 Big 10 schedules will look like as the conference released the information Monday morning.
2015 Nebraska Football Schedule
Sept. 5 BYU
Sept. 12 South Alabama
Sept. 19 at Miami
Sept. 26 Southern Miss
Oct. 3 at Minnesota
Oct. 10 BYE
Oct. 17 Northwestern
Oct. 24 at Wisconsin
Oct. 31 Michigan State
Nov. 7 at Michigan
Nov. 14 Indiana
Nov. 21 at Penn State
Nov. 28 Iowa
2016 Nebraska Football Schedule
One non-conference game TBA
Sept. 3 Fresno State
Sept. 10 Tennessee
Sept. 17 Wyoming
Oct. 1 at Northwestern
Oct. 8 Wisconsin
Oct. 15 BYE
Oct. 22 Minnesota
Oct. 29 at Michigan State
Nov. 5 at Indiana
Nov. 12 Michigan
Nov. 19 Penn State
Nov. 26 at Iowa
Looking things over, 2015 will definitely be a tough schedule but things should ease up in the 2016 season. Should be an exciting time for Husker football playing the likes of Miami and Tennessee as well as the Big10 games. Kinda weird how Wisconsin got back on the schedule very quickly but we do miss out on Ohio State.
0 Comments | Write Comment
I don't write or talk much about the Nebraska basketball team as you have probably figured out. Well we have a must read article that Greg Doyel from CBS put out this morning.
Greg talks about what athletic director Tom Tom Osborne needs to do for the basketball team. That is throw a lot of money and a big time coach that players will want to play for. Don't go for the cheapest mid-major successful coach like Nebraska has done the past two hires. It's time to make a splash and with the new practice arena and new arena that will be finished soon.
Check out the full article here and follow @GregDoyelCBS on Twitter
0 Comments | Write Comment
Nebraska announced that the football team will be playing Idaho State on September 22nd as they finished up the schedule for the 2012 season. Yep, Idaho State who won only two games last season. Idaho State who is also a FCS/Division 1-AA team. Would have been nice to at least play a legit FCS team but the school has to guarantee another home game and one that is as close to a win as possible.
Other games were also announced today. In 2014, Nebraska will face off against Florida Atlantic. In 2015 BYU will come to Lincoln. South Alabama will also make the trip to Lincoln in 2015 as well as 2019.
@NebSports
0 Comments | Write Comment
It's official, Nebraska and Iowa have a name for their rivalry / trophy game. "The Heroes Game" will pick one community hero from each state and be honored on-field during the game and have their name and hometown added to the trophy. A community hero can be nominated by friends, family, co-workers or anyone that feels like someone has done a extraordinary act for the community.
I like the idea but for some reason I think they could have gave it a different name or something to make it more appealing. The idea is there, I think it's just missing something. It will be interesting to see what the trophy looks like.
What are your thoughts? Leave a comment here or write us on twitter @nebsports
3 Comments | Write Comment
This morning the Nebraska Equipment guys posted on Twitter a couple of pictures of two new gloves that Adidas sent the players to use for the upcoming season. I'm not quite sure what I think right now about them but what I care doesn't matter as the players are commenting very positive about them on Twitter. A little over the top is the first thing that I think.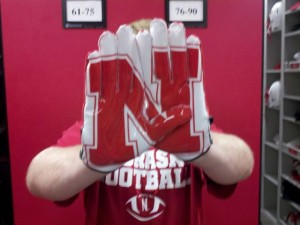 What are your thoughts on the gloves? Let us know by leaving a comment here or following and writing us on Twitter @nebsports . Thanks to @NUequipment for the images
- Mom Makes $72/Hour Online
We investigated How she Makes $8,000/Month. You Wont Believe How…
23 Comments | Write Comment