Navigation
Sections
Husker Articles
Featured Sites
Need Husker Tickets?
Click any of our Husker Tickets banners on the website and order your Huskers Tickets! Great Prices for the Greatest Fans in the World!
GO BIG RED!


Steve Pederson is not stopping!  He is out the scheduling the top teams in all the top conferences around the country this off season.  Sure some of the games don't happen for 5-6 years but you gotta schedule the big dogs down the road and hope for the best!  This time Pederson has added the University of Washington to the schedule.
The series will begin in Seattle at Husky Stadium on Sept. 18, 2010. The Huskies will make the trip to Lincoln and Memorial Stadium on Sept. 17, 2011. The games with Washington are the first contests scheduled for Nebraska in 2010 and 2011.
The announcement of a home-and-home series with Washington comes after recent announcements of home-and-home series with Virginia Tech, UCLA and Tennessee. The Huskers will play Virginia Tech in 2008 and 2009, take on UCLA in 2012 and 2013 and square off with the Volunteers in 2016 and 2017.
Buy Your Huskers Tickets Here! Sold Out Games Are Not A Problem Anymore!
3 Comments | Write Comment

Tony Watson, Mike Nihsen, Jeff Lanning have been chosen to play or have played in in different summer league baseball all star games. 
Most notable is Watson, who has been dominating in the well known Cape Cod League.  Watson is ranking second in the league in wins and among the leaders with 40 strikeouts over 36 innings of work. The left-hander tops Harwich (14-18) in wins, starts, innings pitched and strikeouts and has allowed only 27 hits in his six appearances.
Nihsen, who redshirted in 2006, is currently 7-2 with a 1.34 ERA in 10 starts, fanning 30 in 60.2 innings and holding opponents to a .204 average.  Lanning, who was NU's primary backup at catcher as a true freshman in 2006, is hitting .286 with a homer and 19 RBIs in 39 contests.  Both players have already played in the Northwoods League All-Star game.
0 Comments | Write Comment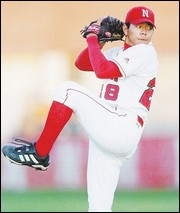 Remember that flame throwing Hawaiian pitcher the Huskers had 5 years ago?  Well that man was Shane Komine who recently just got the call that he will be pitching Sunday for the Oakland A's against the Toronto BlueJays and Roy Halladay. 
This will be Komine's first ever game at the Major League level, he has spent the last 4.5 years in the minors battling arm troubles.  Now he is passed the arm troubles and pitching great.  NebSports.Com would like to wish Shane good luck as he makes his M.L.B. debut on Sunday!
0 Comments | Write Comment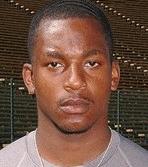 The Major is going to be a Husker!  Great news Husker fans, Bill Callahan and the Univeristy of Nebraska are giving Major Culbert his scholarship back after revoking it from Major's incident on his Oregon recruiting trip.
Major will be serving his community service in Lincoln so that it will not affect his schooling or work with the Nebraska football team.
Good luck Major, make sure to make all the Husker fans proud!
BUY AND SELL HUSKER TICKETS HERE!
0 Comments | Write Comment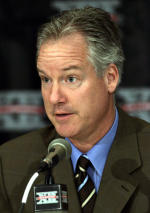 Reports are saying that Barry Collier is a top 3 finalist for the Athletic Director's job at Butler.  If you remember, Collier coached at Butler before coming to the University of Nebraska.
Most Huskers fans are fed up with Coach Collier right now and would be happy if he left for Butler, but if that does happen it leaves the Huskers scrambling to find a new head coach so late in the off season.  It would be very hard to find a head coach this late, or atleast one that they would really want to stay around for more then one year.
1 Comment | Write Comment
Reports coming out of Lincoln during 7 on 7 drills are saying that Junion College transfers Andre Jones and Maurice Purify are very very good.  Andre Jones is challenging for a starting cornerback spot against Grixby and Bowman.  Don't be suprised if you see Grixby move over to a safety position to make room for Jones.
Maurice Purify is a bigtime receiver with the height and speed that the coaching staff will love.  He will go up and get the ball and dominate the cornerback.  He will be a top 2-3 receiver within a few games and eventually move into a starting role this year at wide receiver.
It's going to be a promising year for the Huskers, you better get your Nebraska Football Tickets and Big 12 Championship Football Tickets now!  Get your hopes up and keep them high!
0 Comments | Write Comment

Two Nebraska Football blackshirts are on the Big 12 Football preseason first team that was released today.  Adam Carriker is a senior who recorded 9.5 sacks, and 43 total tackles last year playing from his defensive end position.  Corey McKeon, will be a junior linebacker who really suprised some people with his play in the 2005 season.  Look for both players to have HUGE years for the Blackshirt defense!
Terrance Nunn was also named to the first team but not as a receiver like most would expect.  He was on the list as a punt returner.  Last year Nunn only returned balls half the time and averaged 18.3 yards on 16 returns, and had two longer than 60 yards.
Congrats to all there Husker players, I can't wait to watch you guys this season!
The rest of the Big 12 Preseason Team:
• Offense - WR: Todd Blythe, jr., Iowa State; Jarrett Hicks, sr., Texas Tech. TE: Martin Rucker, jr., Missouri. OG/OT: Justin Blalock, sr., Texas; Manuel Ramirez, sr., Texas Tech; Kasey Studdard, Texas, sr.; Corey Hilliard, Sr., Oklahoma State. C: Mark Fenton, sr., Colorado. QB: Bret Meyer, jr., Iowa State. RB: Adrian Peterson, jr., Oklahoma; Jamaal Charles, soph., Texas. PK: Mason Crosby, sr., Colorado. KR: DeAndre Jackson, sr., Iowa State.
• Defense - DL: Adam Carriker, sr., Nebraska; Tim Crowder, sr., Texas; Frank Okam, jr., Texas; Brent Curvey, sr., Iowa State. LB: Rufus Alexander, sr., Oklahoma; Thaddaeus Washington, sr., Colorado; Corey McKeon, jr., Nebraska. DB: Michael Griffin, sr., Texas; DeAndre Jackson, sr., Iowa State; David Overstreet, sr., Missouri; Aqib Talib, soph., Kansas. P: Daniel Sepulveda, sr., Baylor. PR: Terrence Nunn, jr., Nebraska.
0 Comments | Write Comment