Navigation
Sections
Recent Husker Articles
Featured Sites
Need Husker Tickets?
Click any of our Husker Tickets banners on the website and order your Huskers Tickets! Great Prices for the Greatest Fans in the World!
GO BIG RED!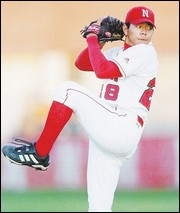 Remember that flame throwing Hawaiian pitcher the Huskers had 5 years ago?  Well that man was Shane Komine who recently just got the call that he will be pitching Sunday for the Oakland A's against the Toronto BlueJays and Roy Halladay. 
This will be Komine's first ever game at the Major League level, he has spent the last 4.5 years in the minors battling arm troubles.  Now he is passed the arm troubles and pitching great.  NebSports.Com would like to wish Shane good luck as he makes his M.L.B. debut on Sunday!
0 Comments | Write Comment