Navigation
Sections
Recent Husker Articles
Featured Sites
Need Husker Tickets?
Click any of our Husker Tickets banners on the website and order your Huskers Tickets! Great Prices for the Greatest Fans in the World!
GO BIG RED!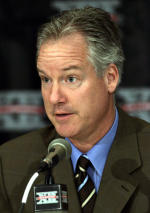 Reports are saying that Barry Collier is a top 3 finalist for the Athletic Director's job at Butler.  If you remember, Collier coached at Butler before coming to the University of Nebraska.
Most Huskers fans are fed up with Coach Collier right now and would be happy if he left for Butler, but if that does happen it leaves the Huskers scrambling to find a new head coach so late in the off season.  It would be very hard to find a head coach this late, or atleast one that they would really want to stay around for more then one year.
1 Comment | Write Comment
One Response to "Barry Collier Heading Back to Butler?"
Neb Sports - A Nebraska Sports Blog - Nebraska Football - Nebraska Tickets - Nebraska Athletics » Barry Collier Headed Back To Butler Says:
August 2nd, 2006 at 2:19 am

[...] Well the rumors that were stating Barry Collier was headed back to Butler taking the A.D. job were true afterall.  Barry has chosen to go back to his alma mater and become the Athletic Director rather then coach the Huskers basketball team.  [...]