Navigation
Sections
Husker Articles
Featured Sites
Need Husker Tickets?
Click any of our Husker Tickets banners on the website and order your Huskers Tickets! Great Prices for the Greatest Fans in the World!
GO BIG RED!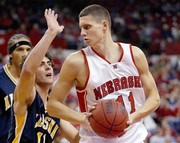 Former Nebraska Basketball player Wes Wilkinson has been selected to play for the Boston Celtic's Summer League team.  This is a great accomplishment for Wes and we wish him the best of luck and cracking the Celtics roster!
Wilkinson had little time to prepare himself for the events of the past week. The Grand Island native said that he had only a few days' notice before heading out for his second workout with an NBA club.
"It came about really quick," Wilkinson said Thursday. "I talked to my agent and he said that Boston wanted me to come and workout. That was four days before I was supposed to be there.">
Once there, Wilkinson's skill and size — he's 6-10, 225 pounds and finished his college career ranked in Nebraska's career top 10 for 3-point percentage and blocked shots — were enough to give the Celtics a reason to want to see more of him in action. It took Wilkinson only seconds to say yes to the Boston Celtics' offer to play on their summer league team.
To Wilkinson, it was a no-brainer. "I went out there and was in the middle of the workout (earlier this week)," Wilkinson said, "and Danny Ainge came over and told me that they had a spot for me on their summer league team if I wanted it."
0 Comments | Write Comment