Navigation
Sections
Recent Husker Articles
Featured Sites
Need Husker Tickets?
Click any of our Husker Tickets banners on the website and order your Huskers Tickets! Great Prices for the Greatest Fans in the World!
GO BIG RED!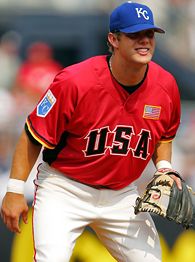 Incase all you Nebraska Fans haven't been keeping up with Alex Gordon, he played in the 2006 Futures All Star Game in Pittsburgh yesterday. 
Alex and Royal teammate Billy Butler slugged their way past the World team as the USA team won 8-5.  Gordon drove in two runs with a single and long double to left-center field.  Butler was named MVP after belting a two-run homer to center field.
Expect Alex Gordon to be promoted to Triple A Omaha within the next month or so and possibly be a September callup for the big league Kansas City Royals.
Keep up the hard work Alex!  Husker fans are proud of you!
0 Comments | Write Comment