Navigation
Sections
Recent Husker Articles
Featured Sites
Need Husker Tickets?
Click any of our Husker Tickets banners on the website and order your Huskers Tickets! Great Prices for the Greatest Fans in the World!
GO BIG RED!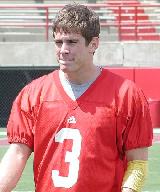 Well we are all wondering what is going in Harrison Beck's mind right now.  Is he in his car driving back to his homestate of Florida?  Beck attended the morning practice yesterday but was no where to be seen for his meetings and afternoon practice.
I have heard that it is because he was listed farther down on the depth chart then he expected and it really blew him away.  If that is the case, Harrison needs to use that as motivation and really work hard and know he is only 1 injury away from being the starting quarter back for this Huskers team. 
Some Husker Fans have been reading his facebook page and noticing some weird comments about Nebraska, which is making fans really think if Beck really wants to be a Husker.  I hope Beck gets things straight and does what he thinks best is for him.  He can still help this team this year and for the next few years if that is what he really wants to do.
1 Comment | Write Comment
One Response to "Oh where is Harrison Beck?"
Neb Sports - A Nebraska Sports Blog - Nebraska Football - Nebraska Tickets - Nebraska Athletics » Harrison Beck leaves the Nebraska Football Team Says:
August 8th, 2006 at 12:09 pm

[...] The three day saga of Harrison Beck leaving out of no where has finally came to an end today.  Beck and coach Bill Callahan talked and both agreed to give Harrison his release from his Nebraska scholarship.  [...]